2024 Grandma's Marathon registration is now open.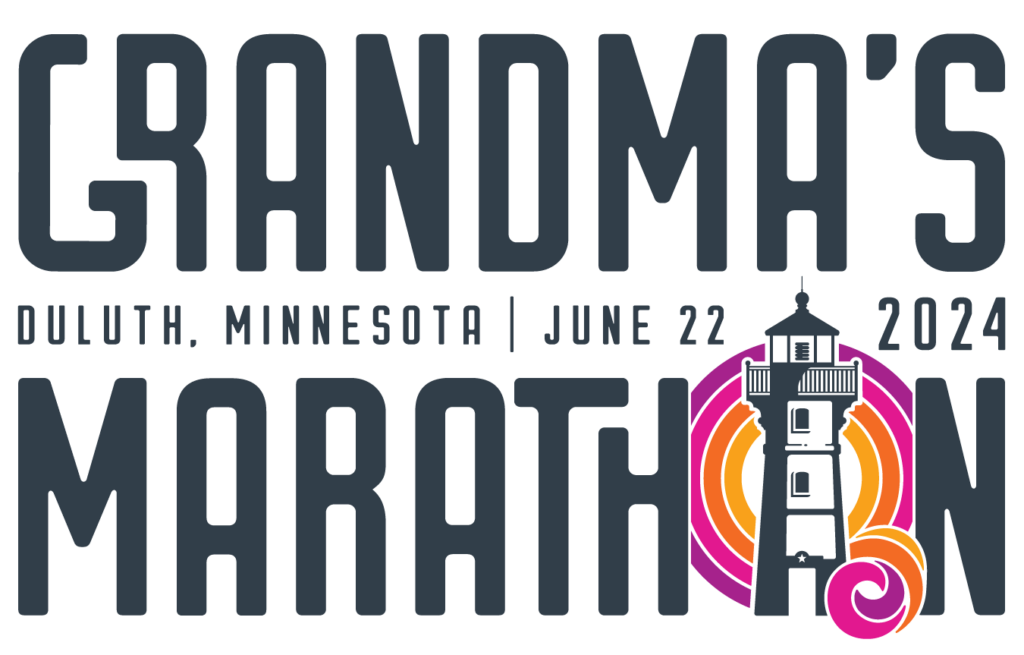 The 2023 Grandma's Marathon is officially sold out!
Those still interested in participating in the 2023 Grandma's Marathon can explore any of the following options:
Connect with other 2024 Grandma's Marathon participants!
2024 Participant Facebook Group — You've got questions about race weekend? Go straight to the source and connect with other participants!
2024 Grambassadors — We've assembled a group of experienced and enthusiastic race weekend veterans to offer help and encouragement!
2024 Bib Transfer Portal — Connect with people who can't make it in June and are looking to sell their race entry.
WORLD CLASS EVENT, SMALL TOWN CHARM
Since our inaugural race in 1977, Grandma's Marathon has grown into something much bigger than just a 26.2-mile race along the scenic North Shore of Minnesota.
It's now become a "can't-miss" weekend in June, a moment when participants of all calibers come together to celebrate the vigor of the human spirit.
It's a day the word "impossible" ceases to exist, a day that you and 9,000 others will start as strangers  but finish as friends.
So get ready to once again tie up your laces for another year of memories, miles, and human might.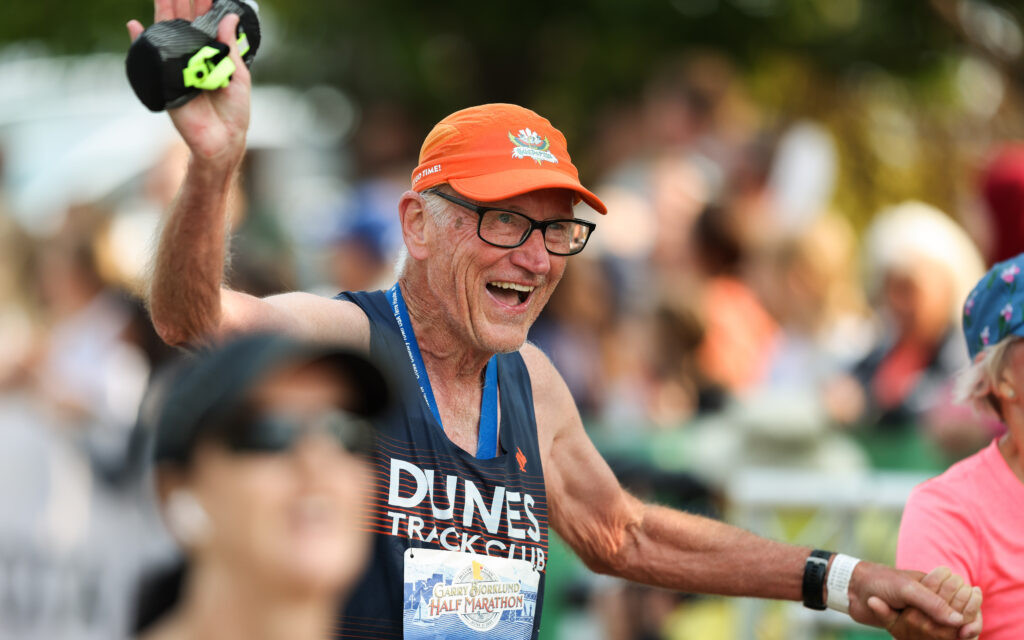 The Grandma's Marathon course is a picturesque, point-to-point 26.2-mile stretch along the beautiful shores of Lake Superior.
With rolling hills and a net downhill elevation, our racecourse starts north of Duluth, MN near Two Harbors and runs along Scenic Highway 61, hugging the shores of Lake Superior before taking participants through the heart of downtown Duluth and finishing in historic Canal Park.
TIME REQUIREMENT
Our course is open for 7 hours (16:00/mile pace). To stay on pace, participants should arrive at Mile 19 by 1:00 p.m. (approximately 5 hours into the race). IMPORTANT: Anyone choosing to continue after the 7-hour time limit will be required to use the sidewalks and follow all pedestrian/traffic laws.
TOTAL ELEVATION CHANGE: -130 FEET
Elevations are approximate.
LOCATION
Start
Mile 1
Mile 2
Mile 3
Mile 4
Mile 5
Mile 6
Mile 7
Mile 8
Mile 9
Mile 10
Mile 11
Mile 12
Mile 13
Mile 14
Mile 15
Mile 16
Mile 17
Mile 18
Mile 19
Mile 20
Mile 21
Mile 22
Mile 23
Mile 24
Mile 25
Mile 26
Finish
ELEVATION (FEET)
740
712
686
656
664
637
634
640
664
677
620
639
638
617
629
631
620
640
645
625
655
672
651
657
645
636
611
610
CHANGE (MILE TO MILE)
–
-28
-26
-30
+8
-27
-3
+6
+24
+13
-57
+19
-1
-21
+12
+2
-11
+20
+5
-20
+30
+17
-21
+6
-12
-9
-25
-1
Pricing Structure (In-Person)
October 1-October 15 — $120
October 16-December 31 — $130
January 1-March 31 — $140
April 1-June 1 — $150
Pricing Structure (Virtual)
October 1-Race Day — $110
The official Grandma's Marathon training group, led by certified coach Tony Stensland, is designed to prepare you for a successful race day.
This is the perfect place to gain confidence while feeling the camaraderie and support of other, like-minded runners! Whether you're interested in joining or just need advice on how to train on your own, please click HERE for more information.
As part of your registration, all participants will be receiving an exclusive trial of the ASICS Runkeeper Go premium subscription, with access to features like:
Tailor-made training plans based on your individual goals, experience, and schedule
Run comparisons and advanced insights into your progress
Guided workouts to help motivate you along the way

Put the worries of training aside, and focus instead on the fun part of reaching your finish line in June!
Participants may pick up their race packets during the Essentia Health Fitness Expo. Extended hours for packet pickup are available on Friday night for those arriving late to Duluth.
PACKET PICKUP HOURS
Thursday, June 20, 2024 | 4:00 p.m. to 8:00 p.m.
Friday, June 21, 2024 | 10:00 a.m. to 11:00 p.m.
Click HERE for more information on the specifics of your race packet pickup.
The Grandma's Marathon start line is located just south of Two Harbors, MN on Old Scenic Highway 61.  For a map and more information on the start line, including more of what to expect for participants, please click HERE.
The Grandma's Marathon finish line is located in the heart of Duluth's Canal Park and is a short walk from the Duluth Entertainment Convention Center (DECC) and Bayfront Festival Park. For a map and more information on the finish line, including more of what to expect for participants, please click HERE.
Grandma's Marathon water and aid stations will be located at Miles 3, 5, 7, 9, 11, 13, 15, 17, 19, 20, 21, 22, 23, 24, and 25. Water and Powerade Ion4 will be provided in cups at every station.
IMPORTANT: Hydration vests and fuel belts are allowed on the course, but only if that is their primary purpose. Backpacks or vests with several other pockets will not be permitted.
Hiccup Earth will again be providing reusable cups for two of our Grandma's Marathon water stations, in partnership with Coca Cola. Please remember two important things — DO NOT take the cups with you, and TOSS your used cups to the side of the road or in one of the marked collection bins.
ON-COURSE FUEL & FOOD
Super One Foods will provide fresh fruit near Miles 19 and 23.5. On-course fuel will be provided, with details to be announced closer to race day.
You will receive an official, clear plastic gear bag at race packet pick-up. A label with your race number is provided in your race packet envelope and must be placed in the designated space on your bag.
Gear bags must be dropped at designated trucks before entering the start corral. You must drop your gear bag by 7:15 a.m. to avoid delays getting into the start corral. No gear bags are permitted in the start corral.
Please plan to wear warm layers on race morning. Extra clothes can be discarded in the start area prior to the race – Goodwill Duluth will reuse or recycle all clothing left behind.
Participants may pick up their gear bags in the secure finish area. You may pick up your gear bag before collecting your post-race food, if desired.
IMPORTANT: Unofficial gear bags (including backpacks) are not permitted and will not be accepted. Do not leave valuables in your bag. Race officials are not responsible for any lost items. All bags are subject to inspection and should not be left unattended.
Grandma's Marathon has experienced pace teams, presented by ASICS, to help keep you on track throughout your race. Pacers will be available for the following goal finish times: 3:00, 3:10, 3:20, 3:30, 3:40, 3:50, 4:00, 4:05, 4:20, 4:35, 4:50, 5:00, 5:30, 6:00.
Participants can find their pace team leader near the sign in the start corral indicating their goal pace.
If you are unable to finish the race, there are five racecourse dropout zones with fatigue buses and medical tents.
McQuade Road (approximately 13.4 miles)
Lakewood Road (approximately 16.1 miles)
60th Avenue East (approximately 19.0 miles)
26th Avenue East (approximately 22.2 miles)
9th Avenue East (approximately 23.7 miles)
Fatigue buses will depart when full to the Duluth Entertainment Convention Center (DECC), which is approximately 1/2 mile from the finish line.
IMPORTANT: Seeking aid at a medical tent during the race DOES NOT prevent you from continuing. However, any assistance that results in your being moved forward on the course will result in a disqualification.
Using official bus or train transportation is the ONLY allowable way for participants to get to the start line of Grandma's Marathon. For the safety of our participants, volunteers, and the public, individual drop-offs at the start line area are strictly prohibited.
Please click HERE for more information on available transportation to the start line and throughout race day.
Rooms do book quickly for Grandma's Marathon weekend, so it's recommended that participants, volunteers, and spectators find lodging as soon as possible.
A full list of available hotels, motels, and campgrounds, etc. throughout the area is available HERE.
The best – and most fun! – places to watch Grandma's Marathon come once the participants have reached Mile 19 and the outer city limits of Duluth.
London Road, Superior Street, and Canal Park are some of the most convenient locations to watch the race. Parking in these areas can be limited, so please plan to arrive early to allow extra walking time to your chosen viewing location.
More specific spectator information for race weekend can be found HERE.
Timing mats will be placed at the following checkpoints on the Grandma's Marathon racecourse: 6.2M, 13.1, 20M, and 24M.
Live runner tracking, powered by ASICS, is available through our Grandma's Marathon mobile app. The app can be downloaded anytime on Apple and Android, but live runner tracking will be available only on race day.
Open – 1st through 10th
Ages 12-18 – 1st
Ages 35-39 – 1st, 2nd, & 3rd
Ages 40-44 – 1st, 2nd, & 3rd
Ages 45-49 – 1st, 2nd, & 3rd
Ages 50-54 – 1st, 2nd, & 3rd
Ages 55-59 – 1st, 2nd, & 3rd
Ages 60-64 – 1st, 2nd, & 3rd
Ages 65-69 – 1st, 2nd, & 3rd
Ages 70-74 – 1st, 2nd, & 3rd
Ages 75-79 – 1st & 2nd
Age 80 & Over – 1st
Wheelers – 1st through 5th
Non-Binary – 1st, 2nd, & 3rd
Local Runner – 1st
Minnesotan – 1st
Grandmother – 1st (Women Only)
NOTE: 19-34 age group awards are included in the Open category. Per USATF rules, gun time will be used to determine prize money and incentive bonuses. Chip time will be used to determine all age-group winners and other award recipients. Non-binary athletes are not eligible for overall men's and women's prize packages.
To access the full historical results database of Grandma's Marathon as well read more about the event's all-time event record holders, year-by-year winners, and age category record-holders., please click HERE.
FREQUENTLY ASKED QUESTIONS
For answers to some of the most Frequently Asked Questions about Grandma's Marathon and race weekend, please click HERE.
2024 GRANDMA'S MARATHON LIMITED EDITION JACKET — $40.00
This Diamond Fleece Jacket, made by Minnesota-based company Storm Creek, is artfully engineered and features a quilted diamond pattern combined with luxuriously soft fabric. Peak comfort and peak performance for the perfect active layer (MSRP: $75).
2024 GRANDMA'S MARATHON TRAINING SHIRT — $30.00
Let the world know you're training for the 2024 Grandma's Marathon in this 100% polyester, long-sleeve tech training shirt. You'll look good and run fast!
2024 GRANDMA'S MARATHON JACKET & SHIRT COMBO  — $55.00
The perfect layering solution for all weather conditions. Save $15 when you purchase both the 2024 Grandma's Marathon limited edition jacket and training shirt!
GRANDMA'S MARATHON LONG SLEEVE HOODIE — $35.00
Made by Minnesota-based company Storm Creek, this luciously soft and lightweight Pacesetter hoodie will fit perfectly and snuggle you all the way across the finish line (MSRP: $55.00).
NOTE: We expect items to start shipping in early 2024.
Grandma's Marathon is the 12th largest marathon in the United States, with more than 9,000 registered participants each year.
The race is is timed and scored by Mtec Results. The previous year's results, as well as historical and all-time results dating to the inaugural event in 1977, are available HERE.
Grandma's Marathon race day images are available online through MarathonFoto. Participants can view and purchase their very own personal photo gallery HERE.
Grandma's Marathon has been voted three straight years as the state's top annual sports event or race in the Minnesota's Best awards, a Star Tribune initiative to celebrate the many businesses, organizations, and individuals that make Minnesota a great place to live, work, and play.
Minnesota's Best is an audience-driven contest and in 2023 had more than 1 million votes cast for 6,700+ organizations in 300+ categories.
Grandma's Marathon was voted as the region's best local tournament in the 2023 Best of the Best awards, which are hosted by our major media partner the Duluth News Tribune.
More that 140,000 votes were cast in this year's competition, separating close to 45,000 nominees in hundreds of different categories searching to find the best of the best in Duluth and the surrounding area.
Grandma's Marathon was named by BibRave to The BibRave 100 : A Definitive List of the Best Races in America and identified as one of the top 20 best marathons of the decade.
Grandma's Marathon was also named by BibRave voters as one of the nation's top 5 "Race-Cations," which is described as a premier race combined with weekend experiences to make potential extra travel and logistics worth the time.
Grandma's Marathon was named a Signature Event by Explore Minnesota Tourism for its contributions to the state's $15 billion travel industry.
In a 2019 economic study, it was reported that Grandma's Marathon brings nearly $21 million to the region each year.
The organization aimed to highlight Minnesota-based, world-class events that produce substantial media exposure and generate significant travel dollars for the state of Minnesota.
In 2022 & 2023, there were 93 participants of Grandma's Marathon that qualified for the 2024 U.S. Olympic Team Trials.
The 2024 U.S. Olympic Team Trials will be held on February 3 in Orlando, Fla.
The qualifying window in the marathon for the 2028 U.S. Olympic Team Trials will open in 2026.
BOSTON MARATHON QUALIFIER
In 2023, there were 1,262 participants (18.9% of finishers) of Grandma's Marathon that qualified for the Boston Marathon, based on the current year's B.A.A. Qualifying Standards.
In its 47-year history, Grandma's Marathon has produced more than 32,000 qualifying times for the Boston Marathon. On average, more than 14.5% of Grandma's Marathon finishers qualify to run in Boston.

ABBOTT AGE GROUP QUALIFIER
The AbbottWMM Wanda Age Group World Rankings comprise a one-year qualifying period during which athletes in nine separate age groups can compete in over 50 marathons across the world to earn ranking points. The top ranked runners in each age group will be invited to the AbbottWMM Wanda Age Group World Championships.
NOTE: The AbbottWMM Wanda Age Group World Rankings and Championships currently do not offer a non-binary option for qualification but are keeping this under annual review and will continue to monitor runner data and growth to create meaningful competition.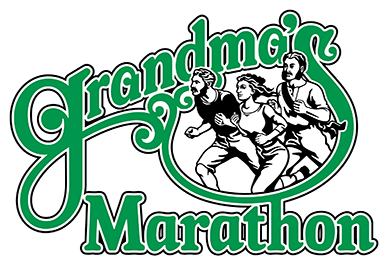 Future Grandma's
Marathon Dates
June 22, 2024
June 21, 2025
June 20, 2026
June 19, 2027
June 17, 2028
June 16, 2029
June 22, 2030