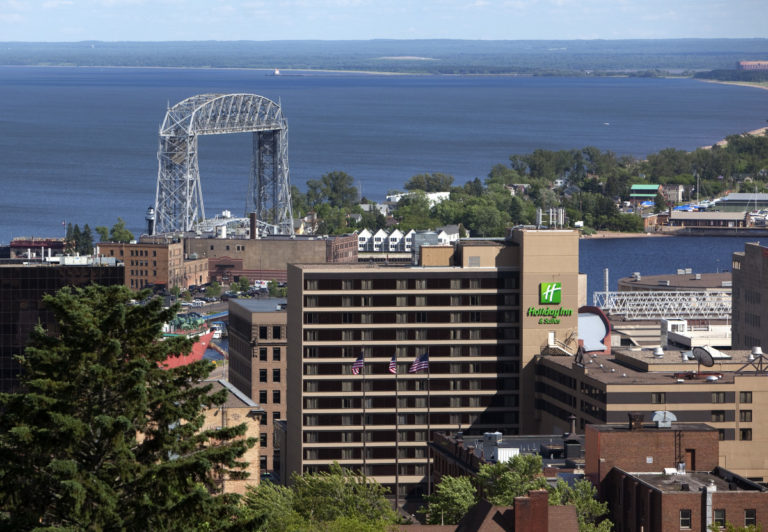 We know the drill. You're excited for Grandma's Marathon weekend, but you're worried about where you can stay. Rooms do fill up early, but over the years we've collected some tips and tricks that may help ease the stress of finding your lodging ahead of race weekend.
CONSULT OUR LODGING PAGE & OFFICIAL PARTNERS
We've done some of the early legwork for you and have compiled names and phone numbers of every hotel, motel, and campground in Duluth and the surrounding region to help start your search for a room on race weekend. NOTE: If you know of a hotel, motel, or campground in our area that is not included on our list, please contact Marketing & Public Relations Director Zach Schneider via email at [email protected] so it may be added.
Marathon Sponsor Locations
The official lodging partner of Grandma's Marathon, Holiday Inn & Suites – Duluth Downtown is the city's largest full-service hotel offering its guests 338 rooms, two restaurants, two swimming pools, and complimentary covered parking.
Conveniently located along Duluth's indoor skywalk system that connects guests to the DECC, AMSOIL Arena, and downtown Duluth, Holiday Inn & Suites – Duluth Downtown is the perfect place to stay during Grandma's Marathon weekend!
CALL INSTEAD OF TRYING TO BOOK ONLINE
Many hotels don't accept online bookings for Grandma's Marathon weekend. This is for a variety of reasons that are unique in our community to race weekend, including the total volume of customers as well as cancellation policies that may be different than usual.
So while it may appear online there are no rooms available, calling the hotel directly is always your best option. We know this adds time to your process, but it can also set you up with the best chance of success.
NOTE: Not all, but some hotels do take names for a waitlist. If it's an option, we recommend putting your name on the waitlist as cancellations are common as people's plans change throughout the year.
BE PATIENT… ROOMS USUALLY BECOME AVAILABLE IN THE SPRING
Most rooms on race weekend are booked by our participants, and most come with a cancellation deadline in April or early may. Additionally, our deadline to transfer a participant bib is always May 1.
Plans change, injuries happen, and we always see a large number of bibs being transferred and rooms being released around this time of the year.
So if you can wait it out, there's a higher chance of landing a room in April or May even if everything appeared to be booked earlier in the year. These rooms do go quickly once they're released, so calling the hotels is again the best strategy for finding what's available.
ON A BUDGET? CONSIDER DORMS OR CAMPGROUNDS
We know hotel rooms on Grandma's Marathon weekend can be expensive. One way to combat that is totravel in groups and share rooms, but that's not the answer for everyone.
Another way to experience race weekend on a budget is to consider staying a local college dorm room or at an area campground.
Check the dropdown menus to the right for more details on the available college dorm rooms, as well as RV and overnight parking at the Duluth Entertainment Convention Center (DECC) near our finish line in Canal Park.
Area college campus housing is available during Grandma's Marathon weekend at the following schools:
RV parking is available during race weekend at the Duluth Entertainment Convention Center (DECC), which is about a 1/2-mile from the finish line area. Please click HERE for reservations and more information.
The Duluth Entertainment Convention Center (DECC) offers overnight and multiple-day parking for vehicles. Please click HERE for more information.
CHECK OUT FACEBOOK GROUPS EARLY AND OFTEN
To help our participants and extended Grandma's Marathon community connect with each other online, we've created two Facebook groups that can help with that ahead of race weekend.
The first is our 2023 Participants group, which is designed for people who are registered foe one the weekend races to ask and answer all questions releated to Grandma's Marathon weekend. These questions can be anything from how to train, what to pack, where to eat… and of course, how to find lodging.
There are people out there going through exactly what you are right now, and there are also lots of people who have been here before and may have other helpful tips and tricks for finding a room. Don't be afraid to use your community of runners, we think you'll find plenty of people eager to lend a hand.
The second is our Bib Transfer Portal group, which is designed to connect people who are looking to buy or sell a bib before the May 1 transfer deadline. While its main function is not lodging, there are typically plenty of people there adding information about available hotel rooms as they look to sell their race entry.